By: Tom Blijleven & Ioana Dulcu
Purposeful Emails
Transactional email is often considered to only serve its purpose: to inform (i.e. about an order) or fulfill a request (i.e. reset a password), leaving zero room for marketing. Admitted; transactional email marketing has more boundaries than 'normal' email marketing. But when you're providing relevant content, transactional emails are fertile ground for more engagement with your recipients.
Here's why:
Transactional emails have better statistics;
Recipients of transactional email are already engaged with the brand;
Transactional emails are not limited to "optimal sending times";
Transactional emails are stuffed with data;
Transactional emails turn offline sales into online engagement.
#1 Statistics don't lie: transactional email performs better
For email marketers, statistics are crucial for success. An email's Open Rate (OR), Click-Through-Rate (CTR) and other marketing terms define the effectiveness of a campaign. Benchmarking those statistics, however, turns out to be quite difficult, or as Jan Kristensen (Sleeknote) writes:
"Email marketing statistics change about as quickly as Kim Kardashian changes outfits"
All statistics agree on one point, though: Transactional emails outperform marketing emails in every aspect. The e-Village Email Benchmark (2020) gave us these percentages: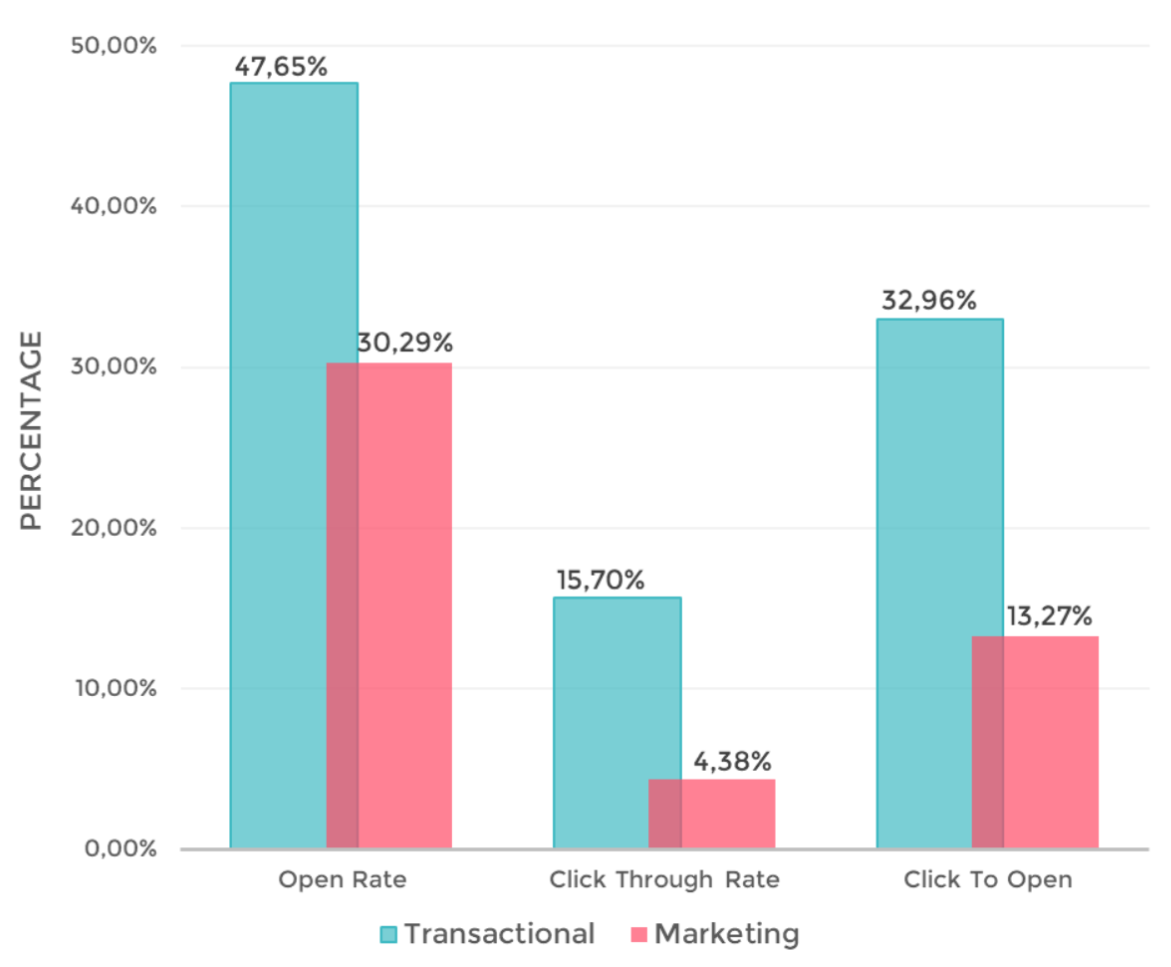 What you see in this graphic is a significant difference between Open Rate (OR), CTR, and CTO. Earlier studies report a smaller difference, indicating that marketers have found better ways to market their transactional emails. Their efforts are now resulting in higher open rates, better engagement, and more conversion:
"The top 3 most effective emails are mobile opt-ins (76%), birthday emails (75%), and transactional emails (74%)"
- Pardot (2015)
"Transactional messages sent by top-performing companies get opened almost four times each"
- Silverpop (2014)
#2 Customer is already engaged with transactional emails
More than statistics tell us, people are already engaging with your brand when you're sending them transactional emails. They have already connected with you prior to the email, i.e. by placing an order or creating an account. The email you're sending is an extenstion of that action. Other than marketing emails, where emails come in cold.
The fact that recipients are already engaged with your transactional email increases the likelihood of them opening your email, clicking it, and even converting.
The longer it takes for you to deliver your emails to the inbox, the less engaged a recipient is.
Consider this:
‍If a customer just purchased goods from your store, they are only thinking of that transaction for a while. So if the order confirmation states "You might want to add this while you still can" - they're more likely to add something to their purchase. The longer it takes for the confirmation to hit the inbox, the less they're thinking about the transaction.
‍Learn more about the importance of email deliverability »
#3 Emails aren't limited to "optimal sending times"
When you're familiar with email marketing, you'll know about the "science" behind sending times. Different studies show best practices for sending a marketing email to subscribers, but in transactional email there's no rule that says "the perfect time to send an order confirmation at Tuesday 3:00 PM".
This leaves room for standardized transactional email marketing. Sending a transactional email with a little marketing has as much effect on Tuesday 3:00 PM as it has on Saturday 9:00 AM. Combined with reason #2, relevance is way more important than timing.
#4 Transactional emails are filled with data & information
The advantage of using a specialized platform like Flowmailer for your transactional email delivery, is that it can use data from several sources to create one email loaded with information. Where marketing emails are sent from one platform, transactional email is sent from pretty much every platform in your business' tech stack.
Either with or without interference of a Customer Data Platform, transactional emails contain data from your ERP, CRM, and any other business platform.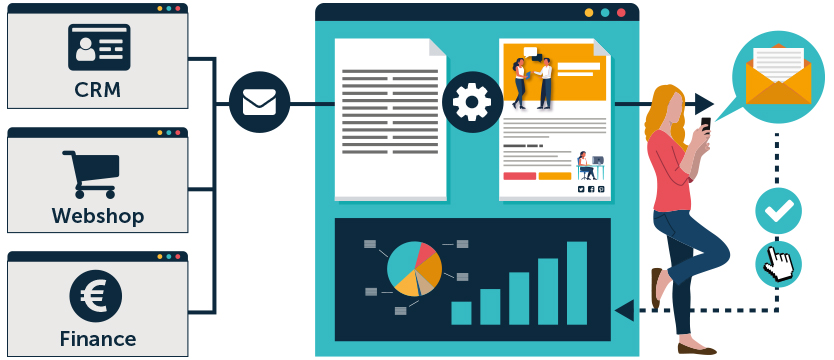 In an email flow that arises from an order, for example, you need information about 1) the items purchased, 2) your inventory (for out-of-stock items), 3) payment, 4) shipment details, and maybe even more. All this data is stored in various business platforms, making a CDP, DMP, or a specialized platform like Flowmailer necessary for data unification.
#5 Turn offline events into online engagement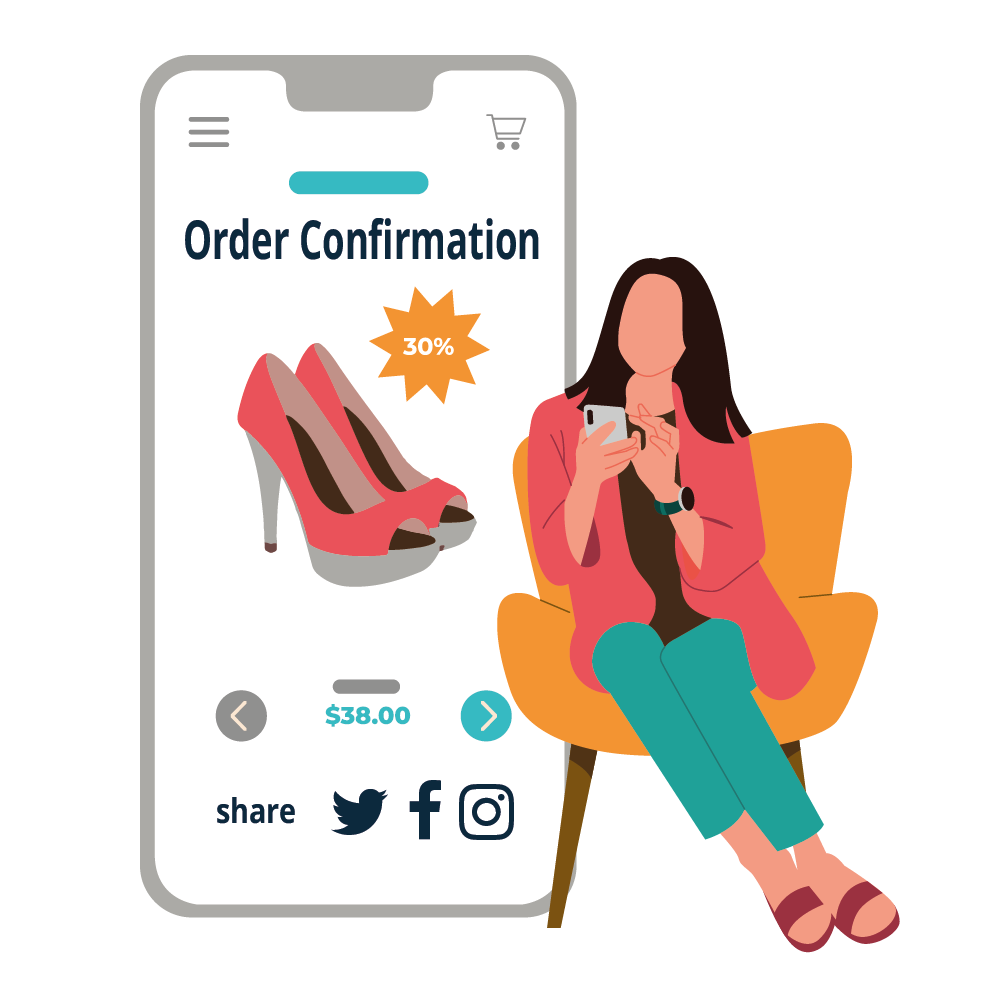 More than any other form of marketing, transactional emails are capable of turning your offline customers into online fans. Every purchase, registration, or package delivery can be followed up with an email, every email can contain ways to increase customer engagement.
Think of social media shares of an order, customer feedback after an on-time delivery, or a welcome email with a bonus after someone signed up for your service. Need more inspiration? We've listed more examples of transactional email marketing in our whitepaper.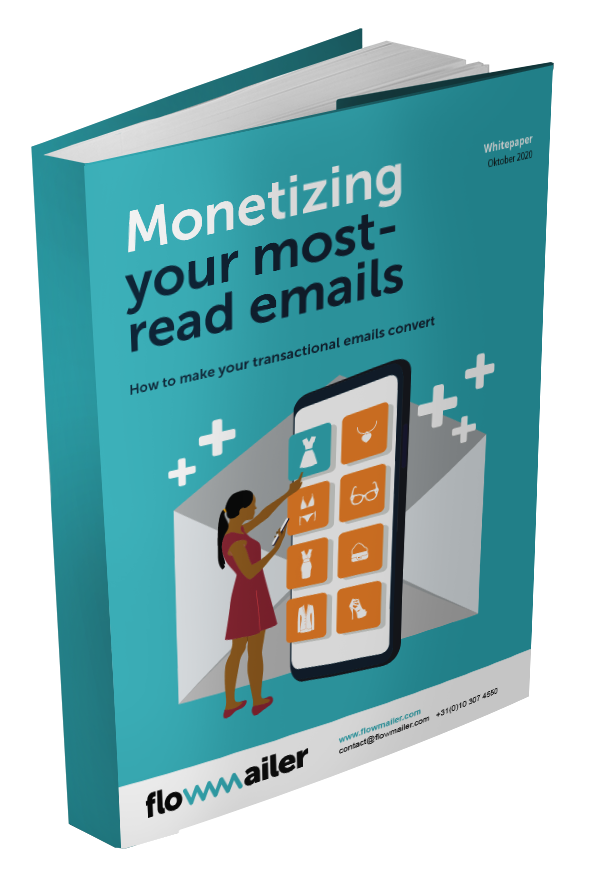 Curious to how you can start with transactional email marketing?
Download our free whitepaper and discover how to make your transactional emails convert today. With expert advice from us and our friends at inboxAds. Learn to increase customer engagement and conversion, and even monetize content.