The Role of Email Delivery in Your 2022 Marketing Strategy
To evaluate the role of email delivery in the future we have to look at trends that influence email deliverability now. In this session, we're looking into trends that are happening now and will continue to happen in the years to come.
So what's happening in email and 2021 and beyond?
"There are a few trends that I would like to point out in the session. I've written about it, along with 28 email experts in this Uplers report. There are four things that I wanted to discuss:
Interactivity;
Agile growth;
New tools and platforms;
Authentication and legislation.
Interactivity in Email
So, let's talk about interactivity first. It's been around for a while and people have talked about it a lot, but what's really exciting to see is that, e.g., AMP for email and email accessibility are becoming more of a hot topic in email. You might not directly see how that influences delivery, but imagine this:
When people open your emails and they interact with your email, because of fancy interactivity, it will influence the way people perceive your email and that indirectly influences the way inboxes see you as a brand. That's something that we have to keep in mind when sending email. Engagement influences inbox placement.
We have more and more data available then ever before. Unlimited creativity is at your feet. Create emails that people interact with. Not only your marketing emails, but your transactional emails, too! Transactional emails have been neglected for quite a while, but it's still the most opened email ever. If you can get people to interact with that email, you'll definitely boost your email metrics.
Examples of interactive emails:
Agile Growth
I know there is a bit of a love-hate relationship with the word 'agile', but businesses move toward agile-first. This is mostly due to the hype of going 'omnichannel' with all-in-one platforms. But in all honesty, those platforms never really fulfilled the prophecy of being all-in-one. They lack technicalities, e.g. deliverability, or missed featured their users expected them to have.
Over the years we moved to 'best of breed' solutions instead all-in-one platforms. The all-in-one platforms saw that happens, and the ecosystem economy was born. All-in-one platforms, like HubSpot, started app marketplaces to extend their service with best-of-breed solutions. The key to this is that we want to be able to switch between providers if we like, change services depending on the receiver (European and USA citizens are subject to different rules), and let our different platforms communicate with eachother.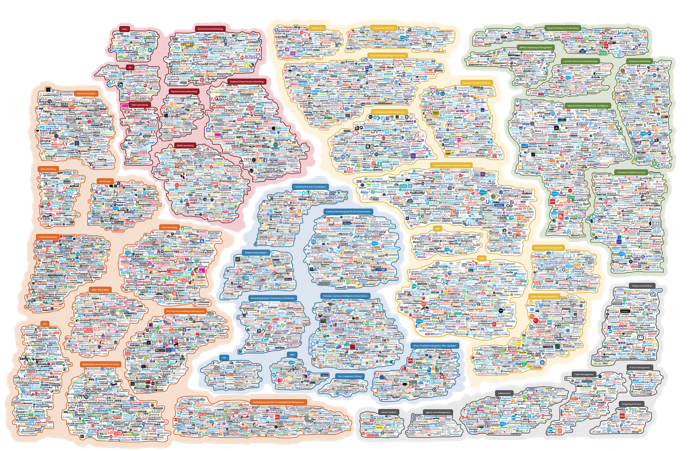 Real Time & the role of APIs
The thing about agile growth is that we want to improve real time. So you need real time integrations, real time analytics, real time... everything. The problem however, is how to let your entire marketing communications stack 'communicate' - this map alone has 8000 marketing software vendors in it... and it's most likely not complete.
A lot of these platforms don't allow integrations or external services, but the key to success in a future email strategy are APIs. They allow multiple (marketing) software to communicate with eachother in real-time, making sure both know equally much about the customers and emails sent. One of the email platforms that was early to adopt, Ongage, allows their users to change between SMTP services based on the customer they're sending their emails to.
Customer Data Platforms
API-first economy, complementary to the ecosystem economy, boils down to being able to easily switch from email software A to B or vice versa. Therefore, Customer Data Platforms, or CDPs, are the ones to watch for the years to come. They allow you to create a 360° customer profile, which makes it easier to be relevant to them and to maintain their email preferences. A CDP also allows you to set sources and channels... and change that when needed.

Authentication and legislation
The final bit about trends might be a boring subject compared to the others: authentication and legislation. It comes down to raising privacy awareness of consumers and brands itself. We've had a lot of customers and leads coming to us with one simple question: "Can you guarantee GDPR compliance?"
Though GDPR has been around since 2018, the attention it gets is rising. And this has to do with two things:
Stricter enforcement, businesses get fined for not being GDPR compliant to set an example;
Legislation equals email delivery: if you comply with the law, people are less likely to file a spam complaint against you -or at least know they opted in for your emails.
The impact of Schrems II: Privacy Shield
The revoking of Privacy Shield technically banned EU to the US data transfers, opening a new privacy discussion and forcing businesses to evaluate their (marketing) operations. Privacy Shield previously allowed European companies to transfer personal data to the across the Atlantic, and now it's forbidden. The alternative, SCCs, are now subject to discussion, so people are looking around for European alternatives. Obviously, this also involves email delivery services.
About authentication
There are two things to discuss about authentication: transformational leadership and BIMI. We've all heard about authentication tools SPF, DKIM, and DMARC. The two trends I mentioned, transformational leadership and BIMI, are products of these tools.
Transformational Leadership
Transformational leadership is really about providers taking action to let their customers authenticate their domains. There have been a few authentication/spam issues in the years prior where email vendors had not taken the appropriate precautions. Not having taken the necessary steps to send authenticated emails only led to a lowered expectation of sending email: you can just hit send, right?
In the past few months, there has been a raising concern about this. And I think that in the years to come, vendors will (have to) take the responsibility and really transform the way we (i.e. their customers) think about email deliverability.
Brand Indicators for Message Identification (BIMI)
BIMI, in laymen's terms, is a logo displayed in the inbox. Meant to increase brand trust and result in higher open rates. BIMI is based on DMARC compliance, so having your logo displayed in the inbox, requires a high level of domain authentication. Where SPF, DKIM, and DMARC are quite technical, BIMI makes authentication way more interesting for (email) marketers. They'll be way more involved in sending properly authenticated emails than before.
"BIMI truly is the result of the love and care you gave email authentication"
Yanna-Torry Aspraki
The role of deliverability in your future email strategy
I've mentioned it a few times, but marketers are getting involved in the email deliverability Their role in the process is defined by the use of interactivity in email and a Customer Data Platform, getting them in control of email preferences, creating a better idea of what recipient is engaged or not, and have a complete view of rates that influence deliverability, like SPAM complaints or bounces.
When email software vendors start enforcing their users to start with authentication, email marketers perceive email authentication as a vital part of email marketing, as it should always be. Authentication and legislation equal email deliverability, and vendors should make that process as easy as possible. BIMI, on the other hand, is there to make authentication sexy. DMARC adoption is still low, but by the end of 2022 we expect a steep rise in implementation.
Legislation, like the Privacy Shield judgment or the GDPR enforcement, might not directly influence email deliverability, but strongly influence the way we approach permission, data handling and email infrastructure. The better we organize these things, the better we do email. The better we do email, the higher the inbox placement.
These trends or ongoing situations are going to strongly influence the way we think about email deliverability. If you're interested in these topics, we've listed a few good reads below:
Resources
5 New Ways to Use Interactive Email Elements (Email on Acid) » Read blog
The Future of Email Marketing & Marketing Automation | 2021 edition (EmailMonday) » Read blog
What makes a good, better, best Customer Data Platform (CDP)? (EmailVendorSelection) » Read blog
What the Privacy Shield judgment means for your business email activities » Read blog
Life After Privacy Shield: A Dive Into EU-Based Email Delivery Providers' Privacy Policy (emailexpert) » Read blog
Everything there is to know about BIMI, by the BIMI working group
The Experts on BIMI for Email: Expectations vs Reality (2021 webinar) » Watch video