By: Tom Blijleven
Exceeding expectations in emails
Being in the email delivery business gives us the chance to see how businesses all over the world are planning their email (marketing) strategies. Talk to them. And of course, draw inspiration from fellow email geeks. After multiple discussions we concluded two things: One, there'll be more focus on customer communications via email and how to spice that up, and two: we're going to use more customer data than ever before. If one system knows my name is Tom, why would the other still email me as "Hello, Aae0eec8''?
Though this is quite the challenge for everyone involved with email, there are some things we can prepare for the years to come. Something like giving a bit of zing to your order confirmations, for example!
In the past few weeks, I interviewed customers and email geeks, collected examples of progressive email senders, and collected them all in one article. Here are the five elements you should start improving (today):
Apply the Inverted Pyramid structure to your emails;
Rethink the order details you're sending;
Provide a transparent timeline;
Leave room for feedback and reviews;
Throw in some engaging content.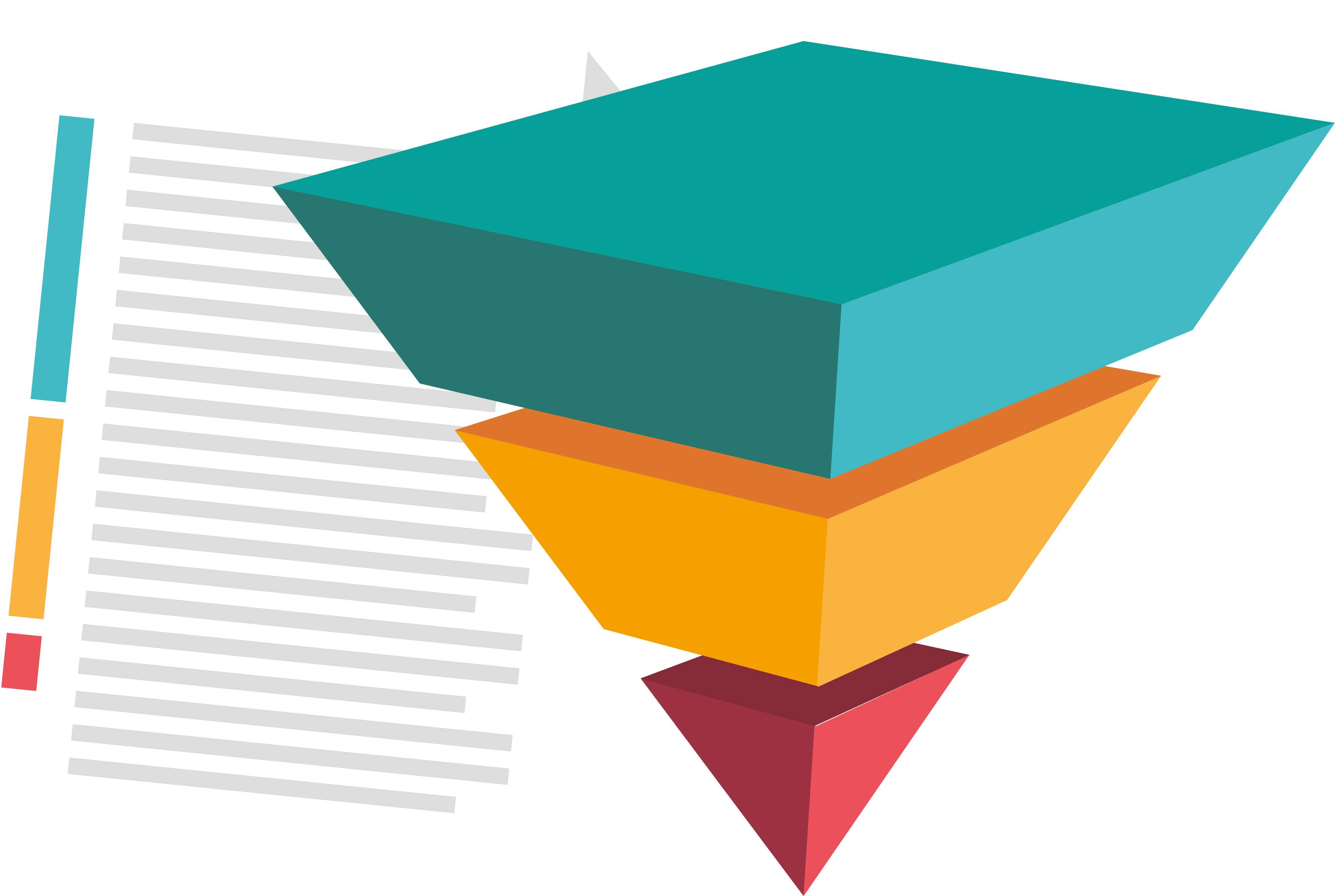 Use the Inverted Pyramid structure
People don't read all the content you're stuffing in your transactional emails. To stay relevant in the inbox, you should reconsider how you structure your emails. Order confirmations, in particular, tend to contain a lot of information, so how can we create better, more relevant emails?
The Inverted Pyramid helps with exactly that. For years, journalists have used this to report news stories as clearly as possible. Now it's time for us marketers to implement the same principle. The structure consists of three layers of information: Focus of the email, important details, side information.
To create better email design (and copy), ask yourself:
Why does my recipient open this email?
What does my recipient need to know (for support or legal purposes)?
What would I like my recipient to do next?
A few examples
To prove my point on how the inverted pyramid structure creates compelling and effective emails, I've collected some examples found here on Really Good Emails. Let's take a look at how they answered the questions above.
It has everything a good order confirmation email needs - especially for food delivery. Apart from a great design, the first thing they tell you is that your order is on its way and an ETA. That's all a hungry person needs to know. To be sure about the order, order details are listed below that. And after all that info, Doordash would like you to refer a friend. Referring a friend is not part of the order itself, so it needs to be at the bottom of the email.
Though the email is quite big, I love how they use the inverted pyramid structure. Often, eCommerce order confirmations contain simple product images and some information, maybe even a Track & Trace button, but this email turned that around. Their answer to my first question would be: "to know when to expect delivery", so they made that their opening statement.
Another email in the eCommerce sector is the one below from Asics. I often use this example to explain the inverted pyramid structure at Flowmailer. It makes creative use of the header and shows the order status "above the fold" - the part you see immediately in the inbox.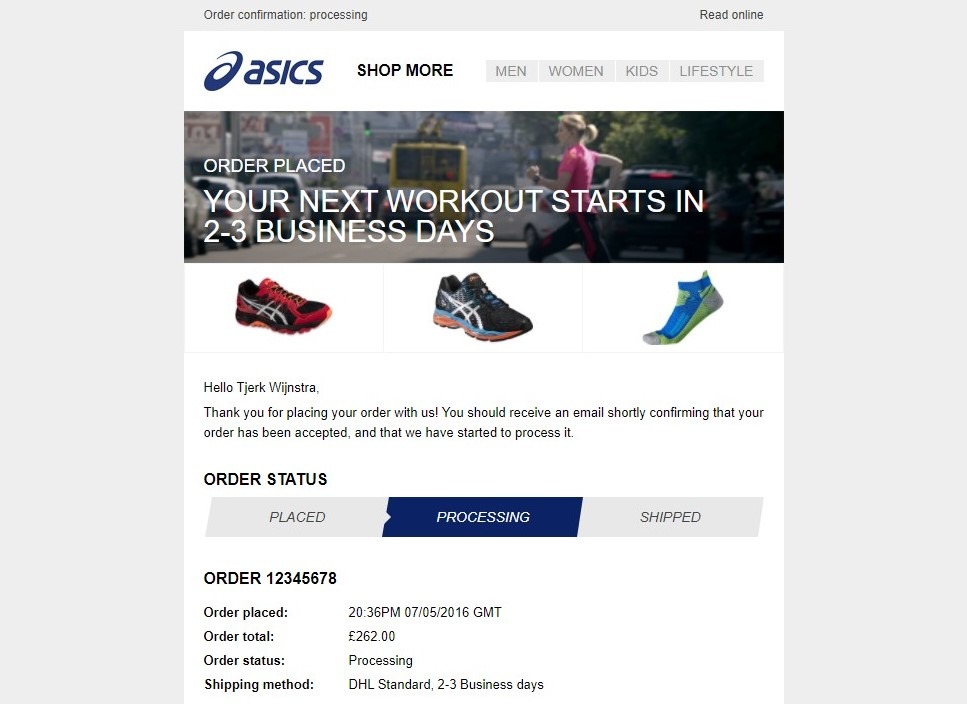 The next step in creating better order confirmations is to rethink the order details.
Rethinking order details
I often use order confirmations to show people what I bought. Or to check if all the items will be delivered on the same day. Therefore, I need relevant information. But if you put all the information in one email, things get messy.
Recently, I got an email that only said:
"Your order 1139139242 has been confirmed. Expected Delivery: 12-23-2020".
We can do better than that, right?
It depends on the business you're in what order details you should share, but everyone should display prices in their emails. Per item, total, VAT, discounts. Discounts especially help to show once again that your customer got themselves a bargain. Item prices, total price, and VAT don't have a psychological effect, but can be helpful for administrative purposes or when the customer has questions about their order.
A few examples
Order details should be complete, yet comprehensible. To demonstrate, I've collected some more examples. With images this time.
This order confirmation shows items with a product image, size, color, quantity, and price - the most important details about fashion items. The product image in particular helps reduce cognitive dissonance - something that isn't necessary in the food delivery sector or after ordering an Uber.
Though this email as a whole isn't the best example, I like what they did with the order details. Like I mentioned when introducing this chapter, people need to know if items are delivered on the same day or not. This email shows the expected ship date per item, which is extremely helpful.
Providing a transparent timeline
I can't stress this enough: people want you to manage their expectations. An order confirmation is only helpful when someone knows what to expect next. Otherwise it's just confirming stuff they already know. So, let them know what to expect. The Etsy email I mentioned before does exactly that: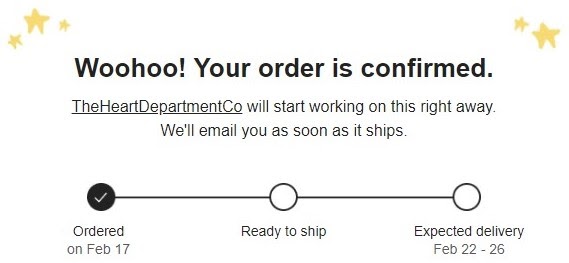 As you can see here, they tell you they will email you as soon as it ships. So you know there will be another email to look out for. And they show you a visual timeline (real-time) about the status of your order. They tell you everything they know about the status and promise to email you when they know more. That's all you need!
This goes for other businesses as well, not only ecommerce. Tell your customer what to expect next.
Besides, but this might be personal, I'd love to know when to expect an email to review the items I purchased. Lately I've received review emails 2 months after a purchase - why not ask me to do so right after delivery or one day later?
Chances of people reviewing items are way higher when they've just started using it or when it just came in. DPD Package Delivery, a Flowmailer customer, sends out review emails at the exact moment a package is registered as 'delivered'. This led to a massive increase in (positive) reviews. And you can use this feedback to improve your email game even more.
Collect (& use) customer feedback
I don't know your audience. You do, and they know themselves. They know what they do and don't like about your emails. Use their feedback to always improve your transactional emails. But adding a review form to your transactional emails is a no-go, so what now?
There are a lot of possibilities to ask for a review of your email, but a new trend in email drew my attention. It's the thumbs up or down at the bottom of an email. Very simple, very clean, and adjustable to your brand style.
They ask:
Did you find this email helpful?
What do you think of this email?
Have we informed you enough?
And are followed by two simple images. The two smiley faces below are used by bol.com in all their emails: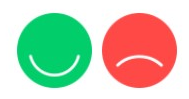 After your recipient has clicked one, they are directed to a review page about the email. Use that feedback! There are tons of tools available that let you collect customer feedback, but you can also build it yourself. You could do with two images and a Google Form, for example.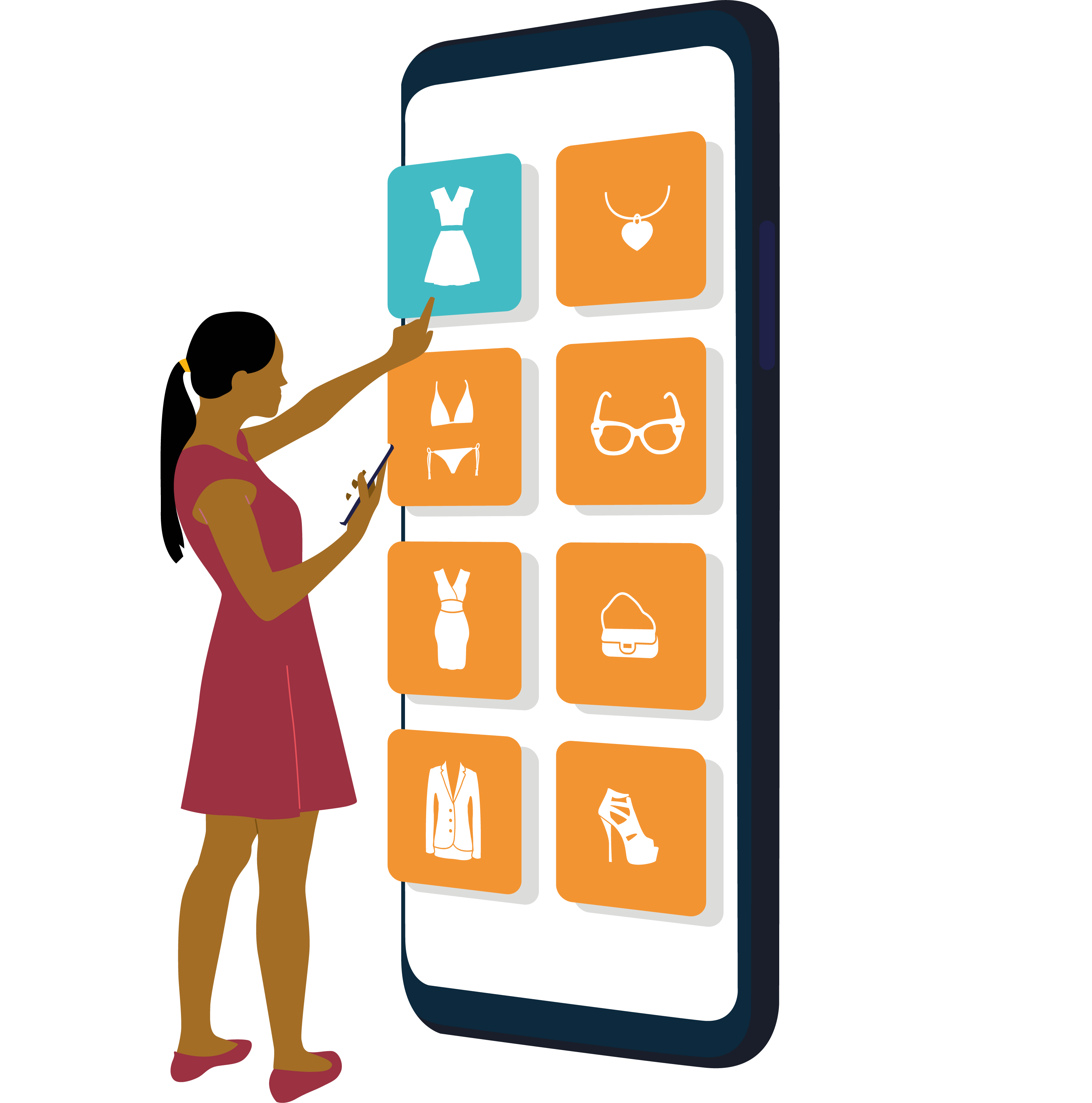 Add engaging content
The last element of unforgettable order confirmations is engaging content. Content that makes your customer click a button and convert. This should be the remaining ~20% of your email - the part where you answer question 3. There are several types of engaging content, about which I wrote on EmailCritic.com:
Helpful content;
User-Generated Content;
Cross- & Upselling content;
Referral program content.
This content is not important to the order confirmation, but is ALWAYS relevant to the recipient. How you do that is up to you. Use static or dynamic content, next-best offering, as long as the content is relevant, you're sending great emails. Once more, I have collected examples of the types of content:
Helpful content
This type of content is meant to help, not sell. It should be complementary to the items purchased and help your customer use or maintain the product. This welcome email from Indeed helps new users navigate through their platform and find a job:
For order confirmations it could be content about how to keep shoes clean and how to polish them, a story about how clothes were sustainably manufactured, et cetera.
User Generated Content (UGC)
Show people how others use your products and invite them to join those people on social media. It helps customers to see how other people use it (reduces cognitive dissonance, too!) and lets them share their stories on social media as well. Free publicity! Fabletics did well in their order confirmation: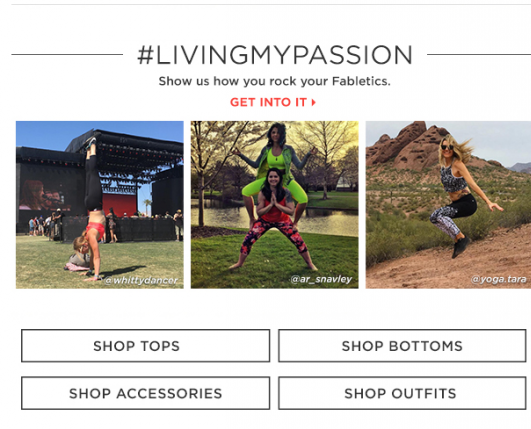 Cross- & Upselling content
This content is tricky, but really effective when done well. Cross- and upsell is about selling more, while the other types of content weren't necessarily. Selling in email is risky, because your offer could either fit perfectly or be a complete flop. So if you decide to add cross- or upselling content, be sure the content is as relevant as possible.
Cross-selling is about selling products that are complementary to the purchased items. Take the shoes, again. An order confirmation about shoes could well contain an offer for shoe polish or a shoehorn.
Upselling is about selling an improved version of the product. This often happens with Freemium services that offer a free version of their software and then try to sell a paid version to you in different ways.
Referral Program Content
Of course we want free stuff! Not free shipping, no, not right after my order. That's just rude… But we like free stuff so much we're willing to refer a friend. Use that in your transactional email. MeUndies does that in their order confirmation email. It fits awesome in the rest of the email, is visually attractive, and has an offer you can't resist - complementary to the product you've just purchased.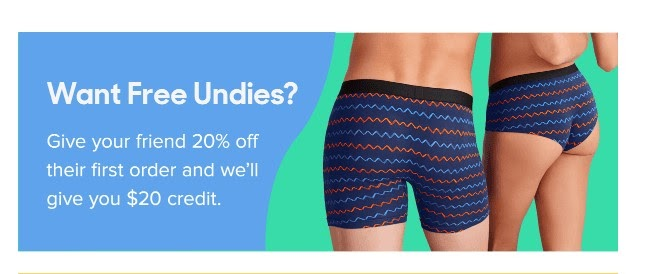 Please. Give Your Transactional Emails Some Personality.
This shouldn't have to be said anno 2021, but we're still sending tons of ugly transactional emails every day. Auto-generated scrap heaps of order details, really? I've created this collection to show you what bold transactional email design looks like.
We're spending thousands (literally) on email marketing tools to give our customers the best marketing emails they've ever received, but often leave transactional emails up to non-commercial people. So, if you're not yet ready for the tips I gave in this article, make sure to start with adding some personality and styling to your current transactional emails.

In short
Email from 2021 and on will be all about going beyond customer expectations. Serving your customers email content they didn't even know they needed. To do that effectively, restructure your current order confirmations, make sure the information in the email is relevant and up-to-date, and make good use of the contact moment you're having with your customer through feedback collection and engaging content.