Getting all of your emails to the inbox is not as easy as it might look. It requires development, trust-building, authentication, and above all: time. In the years of creating Flowmailer, we've gained a terrific reputation with inbox providers, know how to authenticate your domains properly, and ultimately let every email hit the inbox. Our platform lets you take of control of your own deliverability and your customers' with easy domain setup, reporting, and real-time analytics.
When connecting email domain, we give you a comprehensive list of TXT and CNAME records you have to add to securely process your emails through Flowmailer and get them delivered to the inbox.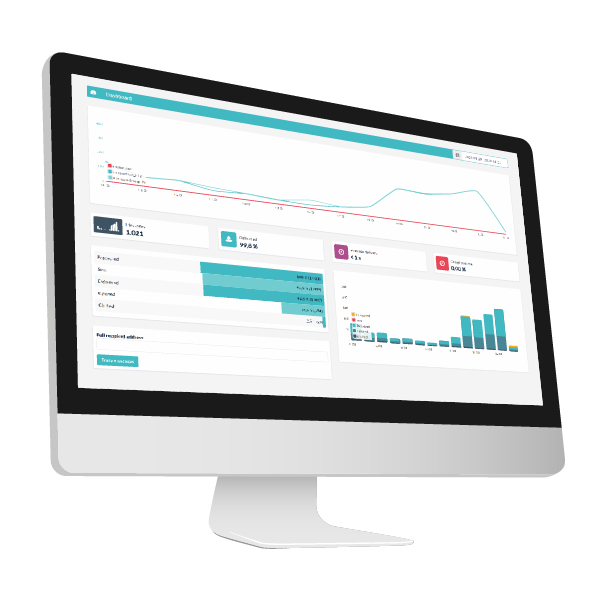 Detailed insight into your deliverability
Your personal dashboard shows you all the emails you've processed through Flowmailer in a certain period and what happened to those emails. The dashboard gives you quick insights into:

‍
Troubleshoot deliverability issues
Gain insight into why your emails have stopped hitting the inbox. Supported by feedback loops, Flowmailer is able to show you the details of why your email got blocked; either in the process of sending or when trying to reach the inbox. We also provide you with advice on how to troubleshoot these deliverability issues!

Prevent deliverability issues
At Flowmailer, we're working on keeping your emails out of SPAM every single day. Our platform, our infrastructure, and our in-house experts are focused on getting your important message in front of your recipient's eyes. That's why:

We have trained professionals to help you set up your domain;
We manually monitor our IP ranges - and keep our shared pools super clean;
We (encourage you to) follow deliverability guidelines and best practices.